Real Life Story of a Warrior 
He was selected for #IIT but chose the #NDA where he was the torch holder for all 6 terms! In addition, he did his M.Tech. from Indian Institute of Science (IISc) Bangalore and topped with distinction.
Major Anuj Sood got awarded the Shaurya Chakra posthumously for his courage and valour.
I have never met Major Sood but I can say one thing that he lived his life to the fullest and did what very few can – achieve the extraordinary with his pure determination.
As he laid down his life for the country on May 5th, 2020, he not only became a hero in death but also left a legacy behind of courage, honor and excellence.
In his own words –
"When you are older, you will realize the only thing that matters… that you had courage and honor. Lose those things and you won't die any quicker, but you will be less than the dirt on your boots. you will still be dust, but you will have wasted your short time in the light #lifeofasoldier".
He proved this that if we have the conviction to do something that our heart believes in, then we can achieve greatness in life and in death.
Thank you sir for being a role model for us.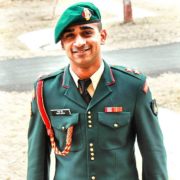 Jai Hind
Credits: From sources of Social Media…… !!!!!!!