Jai Hind!!!!
Dear Aspirants
I have started this blog to help all aspirants of various premiere competitions like NDA, CDS, AFCAT, IAS, IPS and various other grade 1 level exams of UPSC
https://www.edgeacademy.co.in/ 
Every day this blog will give you Concise, Important and to the point compiled News from India, World, Sports, International and many more areas.
Stay Tuned to Learn everyday…. How to Join Special Forces. More about SSB 
https://www.youtube.com/watch?v=ItV5FIYvpEA
NATIONAL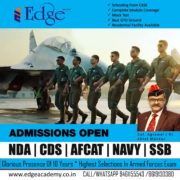 1. Bharat Ratna awardee Lata Mangeshkar passed away on Sunday morning at the age of 92 due to multiple organ failure. She was admitted to Breach Candy hospital in Mumbai on 8th of Jan after she was diagnosed with COVID-19. She was put on ventilator support .
2. Nation bid tearful adieu to Nightingale of India, Lata Mangeshkar whose mortal remains were consigned to flames at Shivaji Park in Mumbai with full state honours on Sunday evening.
3. Former Prime Minister Dr Manmohan Singh on Sunday mourned the demise of legendary singer Lata Mangeshkar saying "India has lost a great daughter". "She was the 'Nightingale of India' and through her songs made an immense contribution to the cultural integration of the country,"
4. India administers 169.46 crore vaccine doses; Recovery rate stands at 95.91%
5. The DCGI has granted emergency use permission to single-dose Sputnik Light COVID-19 vaccine in the country. "This is the 9th COVID-19 vaccine in the country," Union Health Minister Mansukh Mandaviya tweeted on Sunday. "
6. The National Medical Commission, NMC has issued guidelines for determination of fees and all other charges in respect of 50 per cent of the seats in private medical institutions and deemed to be universities governed under NMC Act 2019.
7. ANDHRA PRADESH ;
Employees unions called off their proposed strike, scheduled from Monday, after arriving at an agreement with the government on the new Pay Revision Commission (PRC) provisions.
8. DELHI ; All schools, colleges, educational and coaching institutes will reopen in Delhi from Monday. In the first phase, classes from 9th to 12th in schools will be resumed in a 'hybrid mode both online and offline and in the second phase classes for nursery to Grade 8 will resume from 14th of February. On the other hand, colleges and higher educational institutes are permitted to resume physical classes completely.
9. MAHARASHTRA : State Govt announces public holiday on 07 Feb (Monday) to mourn Lata Mangeshkar's demise.
10. Manipur: Congress leader Jairam Ramesh on Saturday announced the alliance of six political parties for the Manipur elections and named it the Manipur Progressive Secular Alliance. The alliance includes the Congress, CPI, CPI (Marxist), Forward Bloc, RSP and JD(S). The Congress leader also launched an 18-point common agenda of the alliance on the occasion.
11. PUNJAB : CM Charanjit Singh Channi on being Cong's CM face for Punjab polls, on Sunday said that he need the support of Punjab people to win the battle of polls.
12. Election Commission extends ban on roadshows and vehicle rallies for assembly polls 2022.
NEW APPOINTMENT
JNU Vice-Chancellor M. Jagadesh Kumar, whose tenure was marred by controversies, has been appointed as chairman of the University Grants Commission (UGC).
FINANCE
1. The digital rupee blockchain being developed by the RBI would be able to trace all transactions, unlike the current system of mobile wallets offered by private companies, The RBI's digital currency is likely to debut by early 2023.
2. Union finance minister Nirmala Sitharaman said the capital markets regulator should hear the concerns raised by corporate India on the requirement to split the roles of chairman and managing director (CMD) by April 1, but made it clear that she was not giving any diktat to an independent body.
3. Sitharaman responded to the industry's concern on the splitting of the positions of chairman and managing director by April 1, 2022, as mandated by the Securities and Exchange Board of India.
ENTERTAINMENT 
1. Singer Lata Mangeshkar, who passed away aged 92 on 6 Feb 2022 (Sunday), Her funeral was attended by her sister Asha Bhosle, PM Narendra Modi and former cricketer Sachin Tendulkar, among other prominent personalities. Mangeshkar passed away due to multi-organ failure after being hospitalised for nearly a month.
2. Lata Mangeshkar's demise is not just a great loss for India, but for the entire world. Even in death, the legendary singer has proved that music has no boundaries. From Sri Lanka to Bangladesh – several neighbouring nations have expressed condolences, remembering the veteran singer and Pakistan in no different. Lata's admirers in Pakistan too are left teary-eyed and grief-struck on this unfortunate day.
 DEFENCE
1. Defence Minister Rajnath Singh paid tribute to late singer Lata Mangeshkar at a poll rally on Sunday. "When anyone listens to Lata ji's song 'Ae mere watan ke logo zara aankh mei bhar lo paani'…it's very natural for them to be teary-eyed," he said. Lata Mangeshkar was cremated with full state honours at Mumbai's Shivaji Park crematorium on Sunday.
2. Veteran singer Lata Mangeshkar, who passed away in Mumbai earlier on Sunday, had recorded her last song in 2019. The song titled 'Saugandh Mujhe Is Mitti Ki', written by Prasoon Joshi and composed by Mayuresh Pai, was a tribute by the late singer to the nation and its soldiers.
3. The Border Security Force (BSF) troops on 06 Feb Sunday killed three alleged intruders along the border in Samba district of Jammu and claimed to have recovered 36 packets of narcotic substance worth around '180 crore in the international market.
4. China continues to be in illegal occupation of approximately 38,000 sq. kms. of Indian territory in the Union Territory of Ladakh for the last six decades, Minister of State for External Affairs V Muraleedharan informed Lok Sabha.
5. Odisha-based Anadrone Systems has bagged the contract to supply advanced defence equipment to the Indian Army and the Air Force, officials said. The company will supply 125 Manoeuvrable Expendable Aerial Targets (MEAT) and associated equipment worth Rs 96 crore, under the Make in India-II category, meant for research and development projects.
✈️ INTERNATIONAL NEWS
1. Subcontinent lost one of world's great singers:
Pakistan's PM Imran Khan said that with the demise of veteran Bollywood singer Lata Mangeshkar, "the subcontinent has lost one of the truly great singers the world has known". He added, "Listening to her songs has given so much pleasure to so many people all over the world.
2. Nepal President Bidya Devi Bhandari took to Twitter to pay tribute to late singer Lata Mangeshkar,. She said "I am saddened by…news of the demise of…famous Indian singer Lata Mangeshkar, who has sung many Nepali songs in her melodious voice,"
3. Sri Lanka Foreign Minister G.L Peiris arrives in Delhi on 3 day visit to India
WORLD NEWS 
1. Germany is considering sending more troops to Lithuania, Defence Minister Christine Lambrecht said as tensions mount amid Russian troop build-up near Ukraine. Germany is leading a NATO battlegroup of 1,200 troops, which is meant to stall any attack in the region. Notably, Russia has stationed 30,000 troops for joint military drills in Belarus, which borders Lithuania.
2. US, S Korea & Japan to discuss N Korea following recent missile tests:: US special representative for North Korea will host a trilateral meet in Honolulu with his Japanese and South Korean counterparts later this week to discuss "complete denuclearisation of the Korean Peninsula". North Korea carried out seven suspected ballistic missile launches in January, with its seventh test, conducted on January 30, termed as the country's largest since 2017.
3. Dubai government's media office on Sunday said the emirate has planned to cut carbon emissions by 30% by 2030.
4. Astra Space Inc on Sunday said that the scheduled launch of NASA's Educational Launch of Nanosatellites (ELaNa 41) mission has been delayed after an unnamed range asset went out of service. The company added that the new launch is scheduled on February 7. Astra's Rocket 3.3 is set to carry four CubeSats, or small satellites, under the ELaNa 41 mission.
5. Pakistan PM Imran Khan on Sunday met Chinese President Xi Jinping as both leaders reviewed bilateral cooperation on the sidelines of Beijing Winter Olympics. The two leaders exchanged views on regional and global issues of mutual interest, said Pakistan embassy. Calling China a "steadfast partner and Iron Brother", Khan praised China for its assistance to Pakistan's socio-economic development.
6. Queen Elizabeth Wants Prince Charles' Wife To Be Known As 'Queen Consort'
: The 95-year-old monarch said it was her "sincere wish" that when Charles becomes king, Camilla be known as Queen Consort, in a major statement on the eve of the 70th anniversary of her accession to the throne.
🚣🚴🏇🏊 SPORTS
2. India on Sunday became the first country to play 1,000 ODIs. India defeated West Indies by six wickets at the Narendra Modi Stadium in Ahmedabad to win the milestone match. Leg-spinner Yuzvendra Chahal's four-wicket haul helped India dismiss West Indies for 176 in 43.5 overs. India chased down the target in 28 overs, driven by captain Rohit Sharma's 60(51).
3. Team India leg-spinner Yuzvendra Chahal has become the second fastest Indian spinner to take 100 wickets in ODI cricket, taking 60 matches to reach the 100-wicket mark. The 31-year-old bagged his 100th ODI wicket by dismissing West Indies' Nicholas Pooran in the first ODI in Ahmedabad. Kuldeep Yadav is the fastest Indian spinner to complete 100 wickets, taking 58 matches.
4. Former Team India captain Virat Kohli has broken Sachin Tendulkar's record of being the fastest batter to complete 5,000 ODI runs on home soil. During his four-ball eight-run knock against West Indies, Kohli crossed 5,000 ODI runs in India, taking 96 innings. He overtook Sachin, who had taken 121 innings to reach the milestone
5. Condoling legendary singer Lata Mangeshkar's demise, Pakistan's cricket team captain Babar Azam tweeted, "End of a golden era. Her magical voice and legacy will continue to live in the hearts of millions worldwide." He added, "An unparalleled icon!" Lata Mangeshkar passed away aged 92 due to multi-organ failure after being hospitalised for around a month.
6. BIRTHDAY : Srikanth Kidambi (born 7 Feb 1993) is an Indian badminton player who trains at the Gopichand Badminton Academy, Hyderabad. He became the highest ranked men's singles badminton player in the world in April 2018.
Kidambi was awarded with the Padma Shri, India's fourth highest civilian award in 2018.
and Arjuna award in 2015.
FACTS ABOUT INDIA
Mumbai (formerly called Bombay) is a densely populated city on India's west coast. A financial center, it's India's largest city. On the Mumbai Harbour waterfront stands the iconic Gateway of India stone arch, built by the British Raj in 1924. Offshore, nearby Elephanta Island holds ancient cave temples dedicated to the Hindu god Shiva. The city's also famous as the heart of the Bollywood film industry.
In the mid-1990s, Shiv Sena, the Hindu nationalist party in power in Bombay, decided to change the city's name to Mumbai, a name often used in local languages that derives from Mumba Devi, the patron Hindu goddess of the island's original residents, the Koli fishermen.
Thought of the day
When you know better, you do better
JOKE OF THE DAY
Pappu's girfriend : Meri maa aapko bahut pasand karti hai.
Pappu , after a deep thought: 😳🙄🤔Kuchh bhi ho jaye, shaadi to main tujhse hi karunga!
😳WHY❓❓❓
Why in India, Fuel price is different in various states: Prices is calculated like this:
Crude Oil (Indian Basket) + Refining Cost + Central Excise Duty + Dealer's Commision + VAT (collected by State Government) = Petrol Price (in your city)
For Example if
Petrol Price (Indian Basket) = ₹32.39
Refining Cost = ₹5.93
Central Excise Duty = ₹19.48
Dealer's Commision = ₹3.62
*till here the price is now fixed before entering into state
i.e. Total = ₹61.42
1 — VAT (eg Delhi is 27%) = ₹61.42 × 0.27 = ₹16.58
Pollution Cess = ₹0.25
Then Petrol Price in Delhi becomes = ₹78.25/L
LEARN Sanskrit🙏🏻
अहम् गच्छामि | I go
वयं गच्छामः We go
ते गच्छन्ति They go
सः गच्छति He goes
सा गच्छति She goes
🤔 HOW IT WORKS ⁉️
How does matchbook work 🔥
When the matchstick is rubbed against the side of the match box, some of the red phosphorus is converted into white phosphorus; this immediately reacts with potassium chlorate in the matchstick head to produce enough heat to ignite antimony trisulphide and starts the combustion of matchstick.
In 1826 John Walker of England invented the first friction matches. Walker's matches were ignited by drawing the heads through a folded piece of paper coated with ground glass. He began selling them in 1827, but they were difficult to light and were not a success. Again In 1831, Charles Sauria of France developed a match that used white phosphorus.
💁🏻‍♂‍ GK TODAY
Vatican City is the smallest country in the world, measuring just 0.2 square miles. With an area of 49 hectares (121 acres) and a population of about 801.
All citizens of Vatican City are Roman Catholic. The only people allowed to live in the Vatican City are clergy (religious people) and the Swiss Guards who are the Police force of the country. Over 2,400 other people work in the country but they travel in each day from Italy.
BORN TODAY 🐣💐
Ramabai Bhimrao Ambedkar (7 February 1898 – 27 May 1935); also known as Ramai was the first wife of Dr. B.R. Ambedkar, who said her support was instrumental in helping him pursue his higher education and his true potential.
🙏🏻 IDIOMS & PHRASES
Burn bridges
Destroy relationships
ANTONYM
Approached : Receded / Departed
SYNONYMS
Glad – Happy
🛕 VEDIK GYAN
(kindly inform, if given info is vary from actual facts🙏🏻)
RATHA SAPTAMI , also known as Surya Jayanti is celebrated on the seventh day of Magha, Shukla Paksha. It is believed that Lord Surya showered his blessings and brightened the world on Ratha Saptami day.
Ratha Saptami is symbolic of the change of season to spring and the start of the harvesting season. For most Indian farmers, it is an auspicious beginning of the New Year. The festival is observed by all Hindus in their houses and in innumerable temples dedicated to Surya, across India.
Compiled for the Benefit of Aspirants
Col Pieush Agrawal
Director
EDGE Academy, Kota
www.edgeacademy.co.in
9461155543
PLZ FOLLOW the  GOVT. NORMS, MAINTAIN SOCIAL DISTANCE, KEEP YOURSELF YOUR FAMILY SAFE🌼