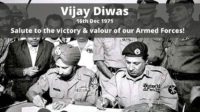 Vijay Diwas- On 16 December,
We commemorate the victory of our great nation over Pakistan.
A war that witnessed one of the biggest surrenders wherein 90,000 + Pakistani troops surrendered and a new nation Bangladesh was created.
On this day, we remember our soldiers who made the supreme sacrifice for the best interest of this nation during the 1971 Indo-Pak war and we pay homage to them.
To all those who have served and are currently serving, we salute you.
Nation comes First Always and Everytime!!!!!!
Jai Hind 
EDGE Academy, Kota
9461155543
#HappyVijayDiwas
#IndianArmy #IndianNavy #IndianAirforce  #NDA #IMA #INA #Futureofficers #Soldiers #Marcos #Garud #Brahmos #Indopakwar #Veterans #Martyrs #India